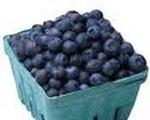 Prep: 15 min
Cook Time: 1 hr 10 min
Total: 1 hr 25 min
Serving: 6
Blueberry Tart with Almonds tastes great served warm.
Ingredients
Crust: 1 1/2 cups cake flour
1 tablespoon cornstarch
2 teaspoons sugar
1 stick cold butter, cut into bits
1 egg yolk
2 tablespoons cold water
Filling: 3 cups fresh blueberries, washed
1 1/2 cups confectioner's sugar
1 cup almonds, ground
2 eggs
1/4 teaspoon almond extract
1 tablespoon water
1/4 cup almonds, sliced
Directions
Preheat oven to 400 degrees F. Grease an 8 inch pie plate with sloping sides.
For the crust: Mix together flour, cornstarch and sugar in a large bowl. Rub butter bits into flour mixture until it forms coarse crumbs.
In a separate bowl, whisk together the egg yolk and cold water; pour it into flour mixture. With hands, bring mixture together to form a ball of dough. If too dry, add water, a teaspoon at a time.
Roll out pastry on a floured surface; transfer to pie pan. Cover with aluminum foil; pour 1/2 cup dried beans into the bottom. Bake 18 to 20 minutes. Remove from oven; discard foil and beans. Reduce temperature to 325 degrees F.
For filling: Put the berries into the baked shells. Mix together confectioner's sugar and ground almonds in a bowl. In a separate bowl, lightly beat together eggs, almond extract and water. Stir sugar mixture into the egg mixture; pour this over the berries. Sprinkle sliced almonds on top.
Bake 35 to 40 minutes, until top is golden. Serve warm.