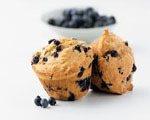 Prep: 15 min
Cook Time: 20 min
Total: 35 min
Serving: 12 People
These flavorful muffins serve well alongside any breakfast dish, especially when served with a hot cup of coffee.
Ingredients
1/2 cup oat bran
1 cup wheat bran
1/2 cup sour cream
1/2 cup milk
1 cup flour
1 teaspoon baking powder
1 teaspoon baking soda
2/3 cup brown sugar
1/2 teaspoon salt
1 cup blueberries
1/3 cup applesauce
1 orange, juiced and zested
1 egg
1 teaspoon vanilla
Directions
Combine oat bran, wheat bran, sour cream and milk; let mixture stand for 10 minutes.
Combine flour, baking powder, baking soda, brown sugar and salt.
In a separate bowl, mix together applesauce, orange juice, orange zest, egg and vanilla.
Blend applesauce mixture into bran mixture.
Blend flour combination into bran and applesauce mixture.
Fold in blueberries.
Pour batter into greased muffin tins.
Bake at 375 degrees for 15-20 minutes.