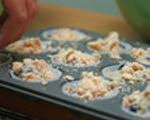 Prep: 10 min
Cook Time: 25 min
Total: 35 min
Serving: Makes 12 muffins
Fresh blueberries make these muffins irresistible, but it's the cinnamon and butter crumble topping that makes them to die for.
Ingredients
1-1/2 cups all-purpose flour plus 1/3 cup divided
3/4 cup light brown sugar plus 1/2 cup divided
1/2 teaspoon salt
2 teaspoons baking powder
1/3 cup vegetable oil
1 egg
1/3 cup milk
1 cup fresh blueberries
1/3 cup all-purpose flour
1/4 cup butter, cubed
1-1/2 teaspoons ground cinnamon
Directions
Preheat your oven to 350 degrees F and line a muffin tin with paper liners.
Sift the 1-1/2 cups flour and baking powder into a bowl with the 3/4 cup sugar and the salt. Add the fresh blueberries, toss to coat and set aside.
In another bowl, combine the oil, egg and milk. Add the oil mixture to the flour mixture and gently stir until just mixed.
In a separate bowl, combine the 1/2 cup sugar, 1/3 cup flour, cinnamon and butter. Use your hands to combine the mixture until it forms a crumble-like consistency.
Fill the prepared muffin tin with the batter and then top with the cinnamon crumble mixture. Place the muffins in the oven for about 25 minutes, or until a toothpick inserted into the center of a muffin tests clean.