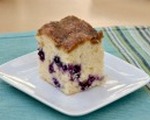 Prep: 15 min
Cook Time: 40 min
Total: 55 min
Serving: Serves about 12
Blueberry muffins are, undoubtedly, one of the most popular muffins to choose from. Made from juicy, plump blueberries, sour cream and tons of butter, what's not to love? For a fun change of pace, why not take all those flavors and tastes you love from the muffin and turn it into something even more delicious -- like a coffee cake? Made with the same ingredients as a muffin but with a few more to give the top that delicious, coffee cake crunch, this will soon be a favorite in your house on weekends. Or really on any morning, for that matter.
Ingredients
For the cake:
1 cup whole wheat flour
1-1/2 cup all-purpose flour
3/4 cup brown sugar
1/3 cup white sugar
Dash of salt
1 tablespoon and 1/2 teaspoon baking powder
1/2 cup, plus 1 tablespoon canola oil
1-1/2 teaspoons vanilla
2 eggs, lightly beaten
1/2 cup milk (2 percent)
2 cups fresh or frozen blueberries
For the topping:
1/2 cup brown sugar
1 tablespoon white sugar
1/4 cup all-purpose flour
1/4 cup cold butter, cut into pieces
1 teaspoon cinnamon
Directions
Preheat your oven to 350 degrees F. Grease an 8 x 8-inch baking dish with cooking spray and set aside. In a large bowl, mix together flours, sugars, salt and baking powder. Make a well in the middle. Pour oil, applesauce, milk, vanilla and eggs into the well. Mix batter well. Gently fold in blueberries.
Pour mixture into the prepared baking dish. In another bowl, mix together the brown sugar, white sugar, flour and cinnamon. Using a pastry blender or knives, cut in butter until mixture is crumbly (will resemble sand). Shake mixture over the top of the batter until evenly coated.
Bake cake for 35 - 50 minutes, or until topping is golden brown and a toothpick inserted in the middle comes out dry.