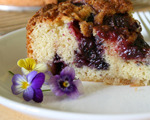 Prep: 25 min
Cook Time: 1 hr
Total: 1 hr 25 min
Serving: 8 servings
This moist and delicious cake, made with a whole pint of fresh seasonal blueberries, tastes more like a tender muffin than a typical cake. Serve with a scoop of vanilla bean ice cream and enjoy.
Ingredients
1/2 cup butter, room temperature plus extra to grease pan
2 cups sugar, divided
2 eggs
1/2 cup milk
1 teaspoon pure vanilla extract
1/2 teaspoon salt
2 cups all-purpose flour
2 teaspoons baking powder
1 pint fresh blueberries, rinsed
2 teaspoons freshly squeezed lemon juice
1 teaspoon cinnamon
Directions
Preheat your oven to 375 degrees and grease a 9-inch springform pan with butter.
Place the butter, 1-1/2 cups sugar, eggs, milk, vanilla, salt, flour and baking powder into a bowl and mix well to combine. Transfer the batter to the prepared pan.
Place the fresh blueberries and lemon juice into a large bowl and toss to combine. In a smaller bowl, combine the remaining sugar and the cinnamon, and then add to the blueberries. Toss the blueberry mixture well to coat and then spread across the top of the batter.
Bake the cake for 1 hour in the oven, or until a toothpick inserted into the center of the cake tests clean. Allow the cake to cool for 15 minutes on a wire rack prior to serving.