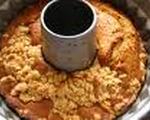 Prep: 10 min
Cook Time: 35 min
Total: 45 min
Serving: 8
Blueberry Lemon Coffee Cake is a great dessert for an elegant brunch.
Ingredients
1 package blueberry muffin mix
2/3 cup water
1/4 cup sour cream
1 egg
1 teaspoon lemon peel, grated
1 tablespoon poppy seed
Vanilla Glaze: 1/4 cup vanilla frosting
1/4 teaspoon lemon peel, grated
Directions
Grease bottom and side of 9 inch round baking pan with shortening; lightly flour. Drain and rinse blueberries in strainer; lightly pat dry with paper towel.
Stir together water, oil, sour cream and egg in large bowl, using spoon. Stir in muffin mix, lemon peel and poppy seed until moistened; gently stir in blueberries. Pour into pan; spread evenly with rubber spatula.
Bake at 375 degrees F for 30 to 35 minutes or until toothpick inserted in center comes out clean and top of cake is golden brown. Cool 10 minutes; remove from pan. Cool completely; drizzle glaze over cake.
To make glaze. Microwave frosting and lemon peel on High 5 to 10 seconds or until thin enough to drizzle.