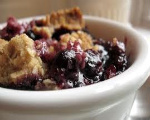 Prep: 5 min
Cook Time: 15 min
Total: 20 min
Serving: 4 servings
Tasty blueberry crisp desserts, topped with amaretto cookies.
Ingredients
1 lemon
2 tablespoons brown sugar
2 teaspoons cornstarch
2 teaspoons almon-flavored liqueur
1/2 cup cold water
1 tablespoon butter
2 1/2 cups blueberries
10 amaretto cookies, crushed
Confectioners' sugar
Directions
Grate 1/4 teaspoon of the lemon peel, and squeeze out 1 teaspoon of juice.
Combine the peel, juice, brown sugar, cornstarch, almond liqueur, water, butter and 1/2 the blueberries in a saucepan. Crush the berries using a spoon. Heat on medium until it boils. Stir in the remaining berries and boil for 2 minutes, stirring constantly.
Spoon into 4 dessert cups. Top with the cookie crumbles and sugar. Serve while still warm.