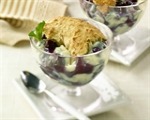 Prep: 15 min
Cook Time: 40 min
Total: 55 min
Serving: 6 servings
Baked blueberry pudding with a sweet Kellogg's All-Bran® topping
Ingredients
500 millilitres (2 cups) fresh or frozen (thawed) blueberries
50 millilitres (1/4 cup) All-Bran Original® cereal
50 millilitres (1/4 cup) granulated sugar
2 millilitres (1/2 teaspoon) grated lemon rind
50 millilitres (1/4 cup) water
125 millilitres (1/2 cup) All-Bran Original® cereal
125 millilitres (1/2 cup) milk
250 millilitres (1 cup) all-purpose flour
7 millilitres (1-1/2 teaspoons) baking powder
Pinch (1/2 millilitre or 1/8 teaspoon) nutmeg
Pinch (1/2 millilitre or 1/8 teaspoon) salt
50 millilitres (1/4 cup) soft margarine or butter
125 millilitres (1/2 cup) granulated sugar
1 egg
2 millilitres (1/2 teaspoon) vanilla extract
Directions
For fruit bottom, combine blueberries, cereal, sugar, lemon rind and water in greased 1.5-litre (6-cup) round or square baking dish. Set aside.
In small bowl, combine cereal and milk; let stand while you prepare remaining ingredients. Stir together flour, baking powder, nutmeg and salt; set aside.
In small mixer bowl, beat margarine, sugar, egg and vanilla for five minutes. Stir in dry ingredients alternately with cereal mixture. Spread batter carefully over fruit in dish.
Bake at 180 degrees C. (350 degrees F.) 35 to 40 minutes or until toothpick inserted in center comes out clean.