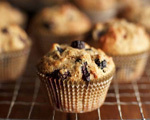 Prep: 15 min
Cook Time: 18 min
Total: 33 min
Serving: 12 People
These healthy muffins are actually quite delicious! A quick and easy breakfast snack for those hectic mornings.
Ingredients
3/4 cup flour
3/4 cup wheat flour
3/4 cup sugar
1/4 cup oat bran
1/4 cup rolled oats
1/4 cup wheat germ
1 teaspoon baking powder
1 teaspoon baking soda
1/4 teaspoon salt
1 cup blueberries
1/2 cup chopped nuts
1 cup mashed banana
1 cup buttermilk
1 egg
1 tablespoon vegetable oil
1 teaspoon vanilla
Directions
Combine flour, whole wheat flour, sugar, oat bran, oats, wheat germ, baking powder, baking soda and salt; set aside.
Beat together banana, buttermilk, egg, vegetable oil and vanilla.
Blend flour combination into egg mixture.
Fold in blueberries and chopped nuts.
Pour batter into greased muffin tin.
Bake at 350 degrees for 15-18 minutes.