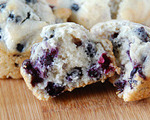 Prep: 10 min
Cook Time: 25 min
Total: 35 min
Serving: Makes 12 muffins
In a pinch, frozen blueberries work just as well as fresh blueberries do. For added appeal, sprinkle the tops of the muffins with a few pinches of brown sugar and cinnamon prior to baking.
Ingredients
2 cups all-purpose flour
1/2 cup sugar
2 teaspoons baking powder
1 teaspoons salt
6 tablespoons butter, cut into pieces
1 egg, lightly beaten
1 cup buttermilk
1 cup fresh or frozen blueberries (if frozen, thaw and drain first)
Directions
Preheat your oven to 400 degrees F and line a muffin tin with paper-liners.
Place the flour, sugar, baking powder and salt into a bowl and mix well. Add the butter to the mixture and combine, using your hands or a fork, until the texture resembles a coarse crumble.
Stir in the eggs and the buttermilk, mix until just blended, and then gently fold in the blueberries.
Transfer the batter to the prepared muffin tin and fill each cup two-thirds full. Bake the muffins for 25 minutes or until their tops are golden brown in color. Allow the muffins to cool slightly prior to serving.