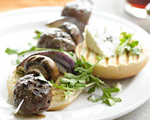 Prep: 1 hr 20 min
Cook Time: 16 min
Total: 1 hr 36 min
Serving: 4 Servings
Crumbled blue cheese is added to these burger kabobs to give them a tangy bite of flavor.
Ingredients
2 cloves garlic, minced
2 tablespoons dry red wine or beef broth
1 tablespoon Worcestershire sauce
1 cup coarsely chopped parsley (1/2 of a small bunch)
1 pound ground sirloin or 85 percent lean ground beef
2 ounces coarsely crumbled blue cheese
1 small red onion, cut in wedges
1 8-ounce package large cremini mushrooms
2 tablespoons olive oil
4 hamburger buns, split
2 cups arugula
Sea salt and freshly ground pepper
Directions
Place the garlic, wine, Worcestershire, parsley, ground beef and a few pinches of salt and pepper into a bowl and mix to combine. Add the blue cheese, stir until just combined and then form into 12 meatballs. Cover the mixture and place into the refrigerator for 1 hour to allow flavors to blend.
Prepare a grill on medium heat.
Thread the meatballs onto 12 pre-soaked wood skewers, along with the red onion and mushrooms, leaving 1/4-inch between each piece. Brush each skewer with olive oil and then sprinkle with salt and pepper.
Place the skewers on the grill for 16 minutes, turning once halfway through the cooking time. Serve immediately.