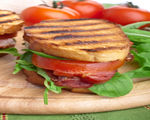 Prep: 10 min
Cook Time: 12 min
Total: 22 min
Serving: 2
Instead of munching on the bacon-heavy white bread BLT from the local diner, satisfy your yen with this bold, vegetable packed version.
Ingredients
Basil Mayonnaise
¼ cup light mayonnaise
4 fresh basil leaves, rolled and cut very thinly
1 tablespoon lemon juice
Sandwich Filling
4 (16 grams each) slices of low-sodium bacon
1 tomato, sliced thin
½ small red onion, sliced thin
½ small cucumber, sliced (seeded if preferred)
4 large leaves of red leaf lettuce
4 thin slices of whole grain bread, toasted
Directions
In a small bowl, combine the basil mayonnaise ingredients and set aside:
Place bacon in an unheated skillet (this will reduce bacon shrinkage), turn burner to medium heat and cook for 10 minutes or until desired crispness, turning frequently.
Immediately remove from skillet, drain and blot with paper towels.
Alternatively, place bacon on paper towels or a microwave bacon cooker and cook for 2 ½ to 3 ½ minutes or until desired doneness.
Set aside.
Spread 1 tablespoon of basil mayonnaise on each piece of toasted bread.
Layer tomato, onion, and cucumber slices evenly on two pieces of bread.
Place two pieces of bacon on each stack, cover with lettuce leaves, and top with remaining slices of toasted bread.