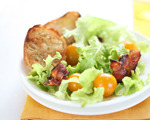 Prep: 15 min
Cook Time: 10 min
Total: 25 min
Serving: Serves 8 as a side dish
A combination of fresh lettuce, tomatoes and basil are tossed with croutons toasted in bacon drippings and drizzled with a bright-tasting vinaigrette.
Ingredients
1 French baguette
6 ounces bacon (about 9 slices)
6 cups lettuce
2 pints cherry tomatoes, halved
1/4 cup loosely packed fresh basil, sliced into ribbons
2 tablespoons bacon drippings
1/4 cup extra-virgin olive oil
2 tablespoons cider vinegar
1 tablespoon Dijon mustard
2 teaspoons brown sugar
1 teaspoon freshly ground pepper
salt to taste
Directions
Cut the baguette into 1/2-inch pieces to form croutons and then set aside.
Cook the bacon in a large skillet over medium-high heat until crispy, and then remove and place on a paper towel-lined plate to drain. Crumble once cool enough to handle.
Remove and reserve 2 tablespoons of the bacon drippings and then place the croutons into the pan with the bacon fat; toss to coat and cook for 4 minutes until toasted and golden in color. Set the pan aside.
Place the reserved bacon fat into a bowl with the olive oil, cider vinegar, Dijon mustard, brown sugar, pepper and a pinch of salt. Whisk the mixture vigorously to blend.
Put the croutons, lettuce, tomatoes, basil and crumbled bacon into a large salad bowl. Add the dressing and toss well to combine. Serve immediately.