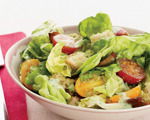 Prep: 10 min
Cook Time: 15 min
Total: 25 min
Serving: 4 Servings
If you enjoy all the flavors of a classic BLT (bacon, lettuce and tomato) sandwich, then this similarly-tasting salad will be a perfect fit. Enjoy with a glass of Chardonnay.
Ingredients
3 3/4-inch-thick slices of rustic white bread, cubed 4 cups
1/4 cup mayonnaise
1/4 cup basil leaves
4 tablespoons olive oil
1 tablespoon Champagne vinegar
1/2 small shallot, coarsely chopped
Sea salt and freshly ground black pepper
4 thick slices of bacon -inch strips, 4 ounces cut crosswise into 1/2
1 head butter lettuce, torn into bite-size pieces about 5 cups
1 cup red cherry tomatoes, halved
1 cup yellow pear tomatoes, halved
Directions
Preheat your oven to 250 degrees.
Place the cubes of bread into a bowl; drizzle with 1 tablespoon of oil and sprinkle with a pinch of salt and pepper. Toss the mixture to combine and then transfer the bread cubes to a baking sheet. Place the bread in the oven for 15 minutes to toast.
In the meantime, place the mayonnaise, basil leaves, remaining olive oil, vinegar and shallot into a blender and process until smooth.
Cook the bacon in a small skillet over medium heat for 6 minutes and then transfer to some paper towels to drain. Crumble the bacon once cool enough o handle.
Place the Bread crumbs, bacon, lettuce and tomatoes into a bowl, top with the dressing and toss to coat. Serve immediately.