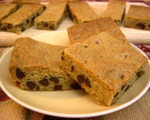 Prep: 15 min
Cook Time: 15 min
Total: 30 min
Serving: 8 People
A fun alternative to fudge brownies. Consider substituting chocolate chips with chopped nuts.
Ingredients
2 cups flour
1/4 teaspoon baking soda
1 teaspoon baking powder
1 teaspoon salt
2/3 cups butter
2 cups brown sugar
2 eggs
2 teaspoons vanilla
1 cup chocolate chips
Directions
Mix together flour, baking soda, baking powder and salt.
In a large saucepan, melt butter, brown sugar, eggs and vanilla. Gradually add flour mixture.
Spread mixture into baking pan and sprinkle chocolate chips across top.
Bake at 350 degrees for 15 minutes.