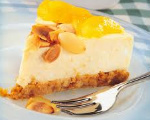 Prep: 3 hr 10 min
Cook Time: –
Total: 3 hr 10 min
Serving: 6 servings
A cheescake that can be whipped up using your blender!
Ingredients
4 zwieback crackers
1 tablespoon sugar
1 tablespoon butter or margarine, softened
For Filling:
1 tablespoon unflavored gelatin
1 thin strip lemon peel
2 tablespoons lemon juice
1/2 teaspoon vanilla
dash salt
1/2 cup hot milk
1/2 cup sugar
2 egg yolks
1 (8 ounce) package cream cheese, cut in fourths
1 cup drained crushed ice
1/2 cup whipping cream
Directions
Break half of the crackers into the blender and combine with the sugar and butter. Blend intermittently. Add in the other half of crackers and blend. Press into the bottom of a buttered 6-inch spring form pan.
To make the filling, place the gelatin, lemon peel, juice, vanilla, salt and hot milk in the blender. Blend on high for 40 seconds.
Add in the eggs, sugar, and cream cheese. Blend on high for 10 seconds.
Finally add the ice and cream and blend until smooth. Pour into the prepared pan and chill for 3 hours before serving.