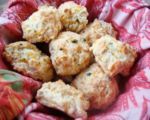 Prep: 15 min
Cook Time: 15 min
Total: 30 min
Serving: Serves 6-8 people
Wonderful to wake up to, treat your family to Blackberry & Lemon Breakfast Biscuits and the rest of the day will be yours!
Ingredients
2 cups all-purpose flour
1/3 cup sugar
2 teaspoons baking powder
1/2 teaspoon baking soda
1/4 teaspoon salt
1/4 cup cold butter
1 egg, lightly beaten
1, 6-ounce container of lemon yogurt
2 tablespoons milk
1 lemon, 2 teaspoons of zest, and 4 teaspoons of juice
1 cup fresh blackberries (you can use frozen)
1 cup powdered sugar
1 teaspoon vanilla
Directions
Preheat your oven to 400 degrees F. Spray non-stick cooking spray onto a large baking sheet and set aside. Using a large bowl, mix together the flour, sugar, baking powder, soda and salt. Cut in the butter and use a mixer to blend until the mix looks like crumbs. Create a well in the middle of the mixture and set aside.
Using a small bowl, stir together the egg, yogurt, milk and 1 teaspoon of lemon zest. Add the egg mixture to the well of the flour mixture all at one. Stir the ingredients until moist. Add the blackberries to the mix and lightly fold them in. Drop the dough by an ice cream scooper (use a large scoop) onto the baking sheet.
Bake the biscuits for about 12-14 minutes or until they're golden. Transfer to a wire rack to cool.
While the biscuits are baking, you can mix the glaze for the biscuits. Using a small bowl, combine the powdered sugar, 1 teaspoon of lemon zest, vanilla and the lemon juice. Mix well until the consistency is that of a light glaze. When the biscuits are mostly cooled, drizzle the glaze on top of them.