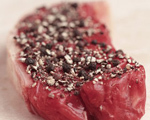 Prep: 5 min
Cook Time: –
Total: 5 min
Serving: Marinade for 1 pound of steak
Freshly ground black pepper makes a robust and flavorful marinade. Try it blended with honey, tomato paste, fresh lemon juice and red wine on your favorite cut of steak.
Ingredients
2 teaspoons honey
1 teaspoons herb
5 tablespoons tomato paste or puree
1/2 cup fresh lemon juice
1 tablespoons red wine or vinegar
Directions
Place all of the ingredients into a bowl and whisk vigorously to combine.
Coat the steak on both sides with the marinade and place in the refrigerator for 10 hours, flipping every few hours to ensure even saturation.