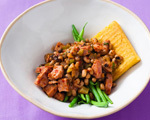 Prep: 10 min
Cook Time: 12 min
Total: 22 min
Serving: 4 Servings
Pair this southern-inspired dish with a side of collard greens and some homemade corn bread for a satisfying dinner menu.
Ingredients
2 stalks celery, coarsely chopped
1 medium onion, chopped
2 tablespoons olive oil
1 cup water
2 15-ounce cans black-eyed peas, drained well
1/2 piece smoked ham, cut into 1/2-inch pieces
2 tablespoons chopped parsley
hot sauce to taste
Directions
Place the oil into a large sauté pan and then add the celery, onions, and a few pinches of salt and pepper.
Sauté the mixture over medium heat for 6 minutes, stirring frequently, and then add 1 cup of water and cook for an additional 3 minutes.
Stir in the peas and ham, cover, and simmer the mixture for 3 minutes.
Add the parsley and hot sauce to the dish, stir to combine then serve hot.