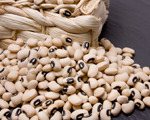 Prep: 2 hr 20 min
Cook Time: –
Total: 2 hr 20 min
Serving: Serves 4-6
Black eyed peas are healthy, delicious and make a great salad like this one with mixed herbs and olive oil.
Ingredients
1 pound black eye peas, soaked overnight
2 tablespoons olive oil plus to drizzle
3 cups onion, chopped
5 teeth of garlic, minced
3 celery stocks, chopped
2 quarts water
2 tablespoons fresh sage, chopped
1 tablespoon fresh thyme, chopped
1 tablespoon fresh marjoram, chopped
1 tablespoon fresh oregano, chopped
3/4 cup fresh parsley, chopped
Sea salt
1/2 teaspoons red pepper flakes
Directions
Place the beans in a big bowl, cover with water and soak overnight.
Drain the soaked beans and rinse well with cooled water.
Place the olive oil into a soup pot over medium heat. Once it begins to shimmer, add the onion, garlic and celery and sauté for 8 minutes.
Stir in the black eyes peas, 2 quarts of water, red pepper and all of the herbs excluding the parsley. Simmer the mixture, partially covered, for 2 hours and 10 minutes, or until the peas are tender.
Using a slotted spoon, remove the peas and the herbs from the pot and place into a serving bowl. Add the parsley, a few pinches of salt to taste and then drizzle with a generous amount of olive oil.