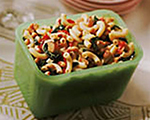 Prep: 20 min
Cook Time: 10 min
Total: 30 min
Serving: 6 Servings
This southern-style recipe combines tasty black-eyed peas with a sweet and spicy pasta salad.
Ingredients
1 cup sun-dried tomatoes, cut into slivers
8 ounces small elbow pasta
8 ounces Swiss chard (not the red variety), washed and cut crosswise into thin strips
8 ounces smoked turkey, chopped
2 14-ounce cans black-eyed peas, drained and rinsed
1/2 cup chopped sweet onions
1/4 cup brewed coffee
2 tablespoons extra-virgin olive oil
2 tablespoons lime juice
2 tablespoons cider vinegar
1-1/2 teaspoons molasses
1 teaspoon Worcestershire sauce
1-1/2 teaspoons chili powder
1/2 teaspoon ground cumin
Salt & freshly ground pepper to taste
Directions
Cook the past al dente according to package directions, adding the swiss chard during the last 2 minutes of cooking.
Drain the pasta and chard, rinse under cold water, drain well again and then place into a large bowl along with the turkey, black-eyed peas, onions and sun-dried tomatoes. Toss to combine.
In a small bowl, mix the remaining ingredients together with a whisk until well combined, then add to the pasta mixture. Toss to coat and serve.