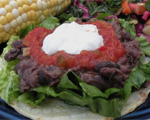 Prep: –
Cook Time: –
Total: –
Serving: 4
A tostada is a crisp tortilla piled generously with any variety of toppings, often including beans, crisp lettuce, and salsa. Good accompaniments are: a grain salad or grain dish; baked potatoes or sweet potatoes; or fresh corn on the cob. Add a salad and/ a green veggie, you've got an easy weeknight meal or fun quick fare to serve company.
Recipe by Nava Atlas at VegKitchen; Photo by Evan Atlas.
Ingredients
8 corn tortillas
1 tablespoon olive oil
1 medium onion (or two shallots), finely chopped
2 to 4 cloves garlic, minced
Two 15-to 16-ounce cans black beans, drained and rinsed
Juice of 1/2 lime or lemon, or more, to taste
2 scallions, thinly sliced
1 to 2 small hot green chili peppers, seeded and sliced (optional)
Salt and freshly ground pepper to taste
2 teaspoons ground cumin
Shredded lettuce, as needed
Plenty of chunky salsa, mild to hot, as preferred
Sour cream
Directions
To toast the tortillas in the oven, preheat the oven to 375 degrees F. Spread the tortillas on a baking sheet. Bake for 10 minutes, or until crisp and dry and just starting to be touched with golden brown spots. Remove them from the oven and place on a serving platter.
To toast the tortillas on a stovetop: Heat a large skillet. Toast the tortillas over medium heat (two or three at a time, depending on the size of the skillet) for about 5 minutes or so on each side, until crisp and touched with golden brown spots.
Heat the oil in medium skillet. Add the onion and garlic and sauté until golden, about 5 minutes. Add the remaining topping ingredients, plus 1/4 cup water, and bring to a simmer. With a potato masher, mash some of the beans so that the liquid becomes thick and saucy.
Place the shredded lettuce, sour cream, and salsa in separate serving bowls and let everyone assemble their tostadas as follows: A layer of shredded lettuce; the black bean mixture; salsa; and sour cream. Pick up the tostadas and eat out of hand (with plenty of napkins!).