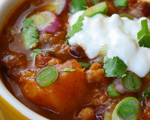 Prep: 20 min
Cook Time: 45 min
Total: 1 hr 5 min
Serving: 4 Servings
A rich and comforting stew that will warm your heart and tummy, serve this dish with fresh country bread.
Ingredients
1-1/2 tablespoons olive oil
1 pound lean stew meat
1-1/2 large onion, chopped
8 cloves of garlic, minced
2-1/2 tablespoons chili powder
1 tablespoon ground coriander
2 14.5-ounce cans fire-roasted tomatoes
2 cans black beans, drained and rinsed
1-2 chipotle chiles from canned chipotle chiles in adobo, minced
2 teaspoons dried oregano (preferable Mexican)
Sea salt to taste
1 2-1/4-pound butternut squash, peeled, seeded and cut into 1/2-inch
cubes (about 3 cups)
1/2 cup pearl barley
sour cream
pepper jack cheese, grated
diced onion
chopped fresh cilantro
pickled jalapeño rings
Directions
Put the oil into a large pot and place over medium-high heat.
Add the beef and the onions to the pot and cook until the meat has browned; about 8 minutes.
Add the garlic and cook for 1 minute, before stirring in the chili powder and coriander and cooking for an additional minute.
Add the tomatoes, beans, chipotles, and oregano and enough water to cover the mixture by 1 inch and then bring to a boil, stirring to combine.
Once the mixture begins to boil, reduce the heat to medium-low and simmer for 45 minutes.
Ladle into bowls and top with a dollop of sour cream, shredded cheese, diced onion, cilantro and jalapeno rings.