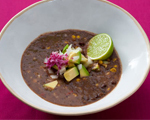 Prep: 15 min
Cook Time: 10 min
Total: 25 min
Serving: 4 Servings
This Mexican-inspired soup dish is made with posole, otherwise known as hominy, black beans and ancho chile.
Ingredients
1 large dried ancho chile, stemmed, seeded, and torn into pieces
1/2 teaspoon hot pepper flakes (adjust to your liking)
3/4 cup boiling water
1/2 medium onion (preferably white), quartered
2 garlic cloves, chopped
1/2 teaspoon ground cumin
1 tablespoon vegetable oil
1 can black bean soup (18- to 19- ounces), preferably vegetarian
1 can white hominy, rinsed and drained
1 tablespoon fresh lime juice
Directions
Place the dried chile and hot pepper flakes into a blender along with the boiling water. Wait 10 minutes and then add the onion, garlic, and cumin and blend until smooth.
Place the oil in a medium-sized pot over medium heat. Once oil begins to shimmer, carefully add the puree, as it will splatter, and cook, stirring frequently, for 4 minutes.
Stir in the black bean soup and the posole to the chile mixture. and cook for 5 minutes.
Remove the soup from the heat and stir in the lemon juice, Season to taste with salt and then serve hot.