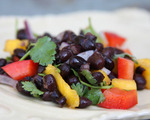 Prep: –
Cook Time: –
Total: –
Serving:
High in fiber, vitamins, and minerals – and conveniently located in your pantry – canned beans can become a near endless array of tasty meals in just minutes. Toss them in salads, soups, grain dishes and pasta. Puree them with herbs and spices for savory dips and spreads. Simply warm them up for a fast and healthy snack. If you're looking for some canned bean inspiration, sink your teeth into these easy canned bean recipes.
Ingredients
1 (15-ounce) can black beans, rinsed, drained
1 mango, pitted, peeled, diced
1/4 cup thinly sliced red onion
2 tablespoons minced fresh mint
1 to 2 teaspoons grated lime zest
Juice of 1 lime
to 2 tablespoons extra virgin olive oil
Salt and freshly ground black pepper to taste
Directions
Combine all ingredients in a bowl, tossing to coat. Serve immediately or refrigerate for up to 3 days.