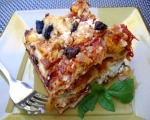 Prep: 20 min
Cook Time: 45 min
Total: 1 hr 5 min
Serving: Serves 10 people
A meatless lasagna with a twist to the traditional dish, Black Bean Lasagna is a Mexican-inspired meal that will be enjoyed by all. Serve with salad and crunchy bread.
Ingredients
1, 15-ounce can of black beans, drained and rinsed
1, 28-ounce can of crushed tomatoes, undrained
3/4 cup of chopped onions
1/2 cup of chopped red bell pepper
1/2 cup of salsa
1 teaspoon of chili powder
1/2 teaspoon of cumin
1 cup of light ricotta cheese
1/8 teaspoon of garlic powder
1 egg
10 uncooked lasagna noodles
6 ounces (about 1-1/2 cups) of shredded cheddar (or mozzarella) cheese
Directions
Preheat your oven to 350 degrees. Spray a 13x9-inch baking dish with non-stick cooking spray.
In a large bowl, mash the beans slightly. Stir in the tomatoes, onions, bell pepper, salsa, chili powder and cumin. Mix everything together.
In a small bowl, mix together the ricotta cheese, garlic powder and egg.
Spread one cup of the tomato mixture over the bottom of the baking dish. Top with half of the noodles, placed so that they overlap a bit. Top with half of the remaining tomato mixture. Spoon the ricotta mixture on top and spread it across the dish. Top with half of the cheese and then the remaining noodles. Next the tomato mixture and then the remaining cheese.
Cover the baking dish with foil that has been sprayed with cooking spray.
Bake until the noodles are tender (about 40-45 minutes). Uncover and let stand for about 15 minutes prior to serving.