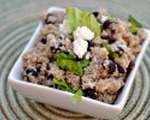 Prep: 5 min
Cook Time: 5 min
Total: 10 min
Serving: 4 People
If you are in need of a quick, healthy and easy side dish, look no further than this black bean couscous. The grainy texture of the couscous is perfectly paired with the softer texture of the beans and the addition of olive oil, lemon zest and a bit of salt and pepper makes this side dish incredible. Plus, the whole dish takes fewer than ten minutes, start to finish. The perfect quick and healthy weeknight dish!
Ingredients
2 cups whole wheat couscous
1 (14-ounce) can black beans, drained
2 tablespoons lemon juice
1 tablespoon extra virgin olive oil
2 teaspoons sea salt
1/2 teaspoon black pepper
1 tablespoon parsley
Directions
Bring two cups of water to a rapid boil. Turn off the heat.
Add couscous to the water, cover and let sit for five minutes. Remove lid and stir in olive oil with a fork. Let sit another two minutes.
Stir in black beans, lemon juice, salt, pepper and parsley. Serve immediately.