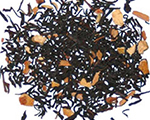 Prep: 10 min
Cook Time: 10 min
Total: 20 min
Serving: 12 Servings
The sharp and slightly bitter taste of black tea is complimented by the sweet taste of apple and aromatic clove in this black tea mix.
Ingredients
1 sweet, crisp apple, such as Fuji or Gala, cut into thin slices
2 tablespoons lemon juice
2 teaspoons confectioner's sugar
1/2 cup loosely packed black tea
15 whole cloves
Directions
Preheat the oven to 200 degrees and line a baking sheet with parchment paper.
Fill a medium-sized bowl half-full with water and ice, and add the lemon juice and the apple slices. Let the slices soak for 10 minutes.
Remove the apple slices from the bowl and place on the prepared baking sheet. Sprinkle the slices with sugar and then place the pan in the oven for 90 minutes.
Once the apples cool, place them in a bowl with the tea and cloves and mix to combine.