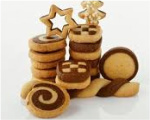 Prep: 2 hr
Cook Time: 45 min
Total: 2 hr 45 min
Serving: 3-4 dozen
Classic butter and cocoa cut-out cookies.
Ingredients
2 3/4 cups plus 2 tablespoons flour, divided
1 teaspoon baking soda
3/4 teaspoon salt
1 cup butter, softened
3/4 cup granulated sugar
3/4 cup packed brown sugar
2 eggs
1 teaspoon vanilla
1/4 cup unsweetened cocoa powder
4 ounces white chocolate, melted
4 ounces semisweet chocolate, melted
Directions
Mix together the 2 3/4 cup flour with the baking soda and salt.
Cream the butter and sugars in a separate bowl. Mix in the eggs, one at a time, and then add vanilla. Beat in the flour mixture, making sure the dough is well blended.
Separate the dough into two halves.
Into one half, beat in the cocoa powder. In the other, the remaining 2 tablespoons flour. Flatten the doughs out and wrap in plastic. Chill for minimum 1 1/2 hours, up to 3 days.
Preheat the oven to 375 degrees Fahrenheit.
Roll the dough out to 1/4 inch thickness on a lightly floured surface. Use cookie cutters to punch out shapes. Arrange on cookie sheets 1 inch apart.
Bake for 9-11 minutes. Cool for 2 minutes before placing on racks.
Once cool, drizzle the cocoa cookies with the white chocolate, and the butter cookies with the semisweet chocolate. Let stand for 30 minutes to dry.