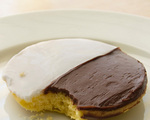 Prep: –
Cook Time: 30 min
Total: 30 min
Serving: Makes 24 cookies
Black and white cookies are a sweet New York City staple. The perfect mouthwatering merge between chocolate and vanilla is ideal for people who love both classic flavors as well as for couples who each love one flavor. As a bonus, black and white desserts showcase perfectly for black tie events or other elegant evening affairs. Bake up a batch of your own black and whites and serve them at your next evening soiree.
Ingredients
1 cup unsalted butter
1 3/4 cups granulated sugar
4 eggs
1 cup whole milk
1/2 teaspoon vanilla extract
1/4 teaspoon lemon extract
2 1/2 cups cake flour
2 1/2 cups all-purpose flour
1 teaspoon baking powder
1/2 teaspoon salt
4 cups confectioners' sugar
1/3 cup boiling water
1, 1-ounce square bittersweet chocolate, chopped
Directions
Preheat oven to 375 degrees F. Beat butter and sugar together until creamy. Beat in eggs one at a time. Once combined, beat in milk, vanilla, and lemon extract.
In a separate bowl, combine flours, baking powder, and salt. Gradually beat dry ingredients into wet ingredients, beating well to fully combine. Spoon tablespoonfuls of dough onto greased baking sheets. Bake for 20 to 30 minutes, then let fully cool on wire racks.
Put confectioners' sugar in a bowl. Spoon boiling water into sugar, one tablespoon at a time, stirring after each addition, until mixture is thick, but still spreadable.
Move half of the sugar mixture to a double boiler and mix in the chocolate, stirring until smooth.
Spread vanilla frosting on one half of the top of each cookie and spread chocolate on the other half. You can even swirl chocolate and vanilla into a Ying Yang formation. Let frosting set before eating.