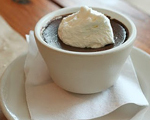 Prep: 2 hr
Cook Time: 15 min
Total: 2 hr 15 min
Serving: 6 Servings
With just the right amount of creamy sweetness, this simple pudding is an ideal end to a rich and flavorful meal.
Ingredients
3 cups milk
1 cup heavy cream
2/3 cup sugar
4 egg yolks
1/4 cup of corn starch
10 ounces bittersweet chocolate, cut into small pieces
1/2 stick of butter
1 tablespoon of vanilla extract
1/2 teaspoon sea salt
Directions
Pour 1-1/2 cups of milk into a large saucepan along with the cream, and heat on low until warm.
In a bowl, mix together the sugar, yolks, cornstarch, and the remaining 1-1/2 cups cold milk. Slowly whisk in some of the warm milk mixture to the egg mixture and then add the egg mixture to the saucepan and cook for 10 minutes until thick. Stir constantly to prevent sticking.
Take the pan off of the heat and stir in the chocolate. Once melted, add in the butter and the vanilla and continue to stir until blended.
Pour the pudding into dessert cups and chill in the refrigerator for about 2 hours. Serve with a dollop of fresh whipped cream.