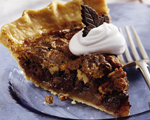 Prep: 25 min
Cook Time: 1 hr 5 min
Total: 1 hr 30 min
Serving: Makes 1, 9-inch pie
Make your own piecrust if you have the time, otherwise purchase one from the supermarket and focus on your other dishes for your holiday table.
Ingredients
1 9-inch pie crust
1, 4-ounces fine-quality 60%- to 70%-cacao bittersweet chocolate, finely chopped
2 cups pecan halves (7 ounces), toasted and cooled
3 large eggs
1/3 cup packed light brown sugar
1 teaspoon pure vanilla extract
1/4 teaspoon salt
3/4 cup dark corn syrup
Whipped cream to garnish
Directions
Preheat the oven to 375 degrees.
Heat a small saucepan of water until boiling. Place the chocolate in a metal bowl and put on top of the saucepan. Melt the chocolate stirring frequently.
Remove the chocolate from the heat and spread on the bottom of the pie crust shell. Let it cool for 3 minutes and then add the pecans.
In a medium bowl, whisk together the eggs, brown sugar, vanilla and salt until blended. Pour in the corn syrup and whisk to combine.
Pour the mixture over the pecans and then place the pie in the oven and bake for 55 minutes. If the pie has browned enough prior to completing recommended baking time, loosely cover with some aluminum foil.
Remove pie from the oven and allow to cool for 20-25 minutes. Serve with a dollop of whipped cream.