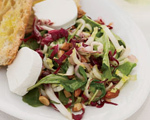 Prep: 15 min
Cook Time: 16 min
Total: 31 min
Serving: 4 Servings
The bitterness of the greens is complimented by the rich and buttery taste of the toasted almonds, the sweet-tart flavor of the apricot sauce and the creamy texture of the goat cheese. Serve with some toasted bread brushed with olive oil.
Ingredients
1/2 cup whole unsalted almonds
1 large shallot, thinly sliced
3 tablespoons raspberry vinegar
6 cups baby arugula, 6 ounces
2 Belgian endives, thinly sliced crosswise
1/2 small head of radicchio, cored and finely shredded
3 tablespoons extra-virgin olive oil
1 teaspoon rosemary leaves
1/2 teaspoon thyme leaves
3 tablespoons apricot jam
Sea salt and freshly ground pepper
1 8-ounce log of fresh goat cheese, cut into 8 rounds
Directions
Preheat your oven to 350 degrees.
Place the almonds in a single layer on a baking sheet and cook in the oven for 10 minutes until golden brown. Remove from the oven and chop when cool enough to handle.
Put the shallot and the vinegar in a bowl, whisk to combine and then set aside for 10 minutes.
Place the arugula, endives, radicchio and almonds into a salad bowl and toss to combine.
Put the oil, rosemary and thyme in a sauté pan and cook for 3-1/2 minutes stirring frequently. Add the jam and cook the mixture for 1 minute then stir in the vinegar mixture and cook for 30 seconds over low heat. Sprinkle the sauce with a few pinches of salt and pepper and then pour onto the greens and toss to coat.
Serve the greens topped with the goat cheese.