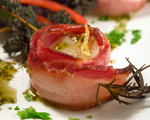 Prep: 30 min
Cook Time: 15 min
Total: 45 min
Serving: About 25 medium scallops
These hot hors d'oeuvres are just divine, with a smooth scallop wrapped in crispy bacon and served with a spicy mayonnaise sauce. Make a double recipe as these party favorites will disappear fast.
Ingredients
1-1/2 pound large scallops
1/2 pound thin-sliced bacon
Extra-virgin olive oil
Sea salt and freshly ground black pepper
1 cup good quality mayonnaise
1/4 cup hot chili paste
1 lime, juiced
2 tablespoons chopped cilantro, plus more for garnish
Directions
Prepare your oven broiler.
Wrap a piece of bacon around each scallop and secure tightly with a toothpick. Put each wrapped scallop onto a baking pan and sprinkle with some salt and pepper and drizzle with olive oil.
Cook the scallops in the oven and broil for approximately 10 to 15 minutes, turning once. The bacon will become lightly crisp and the scallops light brown in color.
Meanwhile, in a small bowl, combine the mayonnaise, chili paste, lime juice and chopped cilantro. Mix well and place in the refrigerator.
Place the wrapped scallions on a serving platter sprinkled with cilantro and serve with the spicy mayo dip.