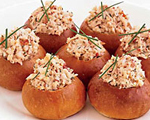 Prep: 35 min
Cook Time: –
Total: 35 min
Serving: Makes 12 servings
These elegant appetizers are made with brioche rolls and filled with crabmeat, fresh tarragon and lemon. You can also use fresh sourdough bread rolls if you prefer.
Ingredients
3/4 pound cooked crabmeat, coarsely chopped
1/4 cup plus 2 tablespoons mayonnaise
1 teaspoon chopped tarragon
1/2 teaspoon finely grated lemon zest
Salt and freshly ground pepper
12 mini brioche rolls
Snipped chives, to garnish
Directions
Combine the lobster, mayonnaise, tarragon, lemon zest and a sprinkle of salt and pepper in a food processor and pulse until mixture obtains a chunky-paste consistency.
Cut a 1-1/2-inch hole out of each bread roll with a paring knife, leaving about a 1/2-inch border around the top. Slowly hollow out the bread roll with a small spoon.
Fill each roll with the crabmeat mixture and sprinkle with chives.