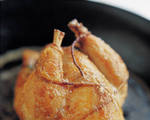 Prep: 4 hr 15 min
Cook Time: 1 hr 30 min
Total: 5 hr 45 min
Serving: 4
Bistro Chicken is marinated in a flavorful lemony sauce.
Ingredients
Marinade: 1 cup flat leaf parsley
2 garlic cloves
2 shallots
1 tablespoon coarsely ground black pepper
3 tablespoon olive oil
1 1/2 tablespoons Dijon mustard
1 1/2 teaspoons dried Herbes de Provence
1/2 teaspoon dried rosemary
1 teaspoon grated lemon rind
Chicken: 1, 3 pound chicken
1/2 teaspoon salt
coarsely ground black pepper
1/2 head garlic, unpeeled
1/2 cup chicken broth
2 tablespoons lemon juice
Directions
To prepare marinade, combine all ingredients in a food processor; process to a paste.
To prepare chicken, coat chicken with marinade. Cover and refrigerate 4 hours or overnight.
Preheat oven to 350 degrees F.
Season chicken with salt and pepper; place on rack in roasting pan. Wrap garlic in foil and place alongside chicken. Roast 1 1/2 hours or until a meat thermometer inserted in thigh registers 170 degrees F. Remove from oven and let rest 20 minutes.
Reserve pan juices in the roasting pan. Add broth and lemon juice. Squeeze roasted garlic cloves into broth mixture. Whisk, stirring to loose brown bits, and simmer until slightly thickened. Serve with chicken.