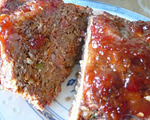 Prep: 20 min
Cook Time: 1 hr 30 min
Total: 1 hr 50 min
Serving: Makes 6 to 8 Servings
Bison, also known as buffalo, is starting to make a major comeback as a popular protein. Taste-wise, bison is a bit more flavorful than beef, but the meat is significantly leaner.
Ingredients
1 large carrot, peeled and grated
4 shallots
2 stalks of celery, minced
1 tablespoon olive oil
2 pounds ground bison
1/4 pound bacon, finely chopped
2 extra-large eggs
1 cup oatmeal
1/2 teaspoon black peppercorns, ground
1 teaspoon fennel seed
1 teaspoon celery seed
2 teaspoon sweet paprika
1-1/2 teaspoons salt
1/2 cup thick tomato sauce, ketchup or other glaze
Directions
Place the oil into a large sauté pan over medium heat. Once it begins to shimmer, add the carrot, shallots and celery and cook until the vegetables are very soft, about 8 minutes, stirring frequently. Set the pan aside to allow the mixture to cool.
In the meantime, preheat your oven to 350 degrees.
Place the bacon, pepper, fennel, celery seeds and sautéed vegetables into a large bowl, and mix well with clean hands to combine.
Transfer the mixture to a loaf pan and then cover the top with tomato sauce, ketchup or the glaze of your choice. Cook the meatloaf for 1 hour and 20 minutes, and then remove from the oven and let rest for 10 minutes prior to slicing and serving.