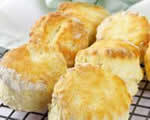 Prep: 30 min
Cook Time: 20 min
Total: 50 min
Serving: 6
You can add cheddar cheese to this recipe for cheese biscuits. Or you can fill these biscuits with fruit or a tuna mixture.
Ingredients
3 cups flour
4 teaspoons baking powder
1 1/2 teaspoons salt
1/3 cup shortening
1/3 cup chopped parsley
3 tablespoons chopped onion
3/4 cup of milk
Directions
Combine flour, baking powder and salt in a bowl.
Cut in shortening until mixture is crumbly.
Mix in parsley and onion.
Stir in enough milk to make a soft dough.
Turn out on a lightly floured board and knead gnetly for 30 seconds.
Divide dough in half.
Rool each half into 6 x 20 inch rectangles.
Cut into three 6 inch squares and three 2 inch circles.
Place each square in an individual casserole dish.
Pour a filling of your choice into the center.
Place a circle over each center.
Bake at 400 degrees F for about 20 minutes.