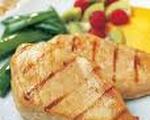 Prep: 2 hr 15 min
Cook Time: 1 hr
Total: 3 hr 15 min
Serving: 8
Bird Casserole can be made with any foul. This recipes calls for 6 chicken breasts but feel free to use 3 pheasants if hunting season was promising.
Ingredients
6 large chicken breasts, on the bone
4 boxes Stovetop stuffing mix, chicken flavor
1 can cream of celery soup
4 cans chicken broth
Directions
Boil chicken breasts for 1 1/2 hours or until tender and meat falls off the bone. Cool and remove skin. Remove from bone and cut meat into small pieces
Mix broth, celery soup and stuffing together.
In a 9 by 13 inch greased baking dish, place one layer stuffing mixture, then one layer cooked chicken. Repeat with stuffing on the top layer.
Cover with foil and heat at 325 degrees F for 1 hour.