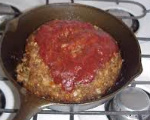 Prep: 15 min
Cook Time: 25 min
Total: 40 min
Serving: 5-6 servings
Spin on meatloaf in the skillet. Speedy Dinner option!
Ingredients
1 tablespoon instant minced onion
1/2 cup milk
1 1/2 pounds ground beef
1 slightly beaten egg
1/2 cup quick-cooking rolled oats
2 teaspoons salt
1/4 teaspoons coarsely ground black pepper
1 (8 ounce) can spaghetti sauce with mushrooms
1 (8 ounce) can kidney beans
Kitchen Bouquet
Directions
Soak the onions in the milk for 5 minutes. Blend in the beef, egg, oats, salt and pepper. Mold into a 10-inch skillet.
Use a wooden spoon handle to score the meat into 5-6 wedges. Brush the top of the meat with Kitchen Bouquet.
Mix together the spaghetti sauce and beans and pour over the meat.
Simmer for 20-25 minutes or until done. Serve on french bread, spooning the sauce over.