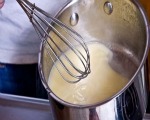 Prep: 10 min
Cook Time: 20 min
Total: 30 min
Serving: Serves about 4 people
Beurre Blanc Sauce is a simple and basic French sauce that literally means, "white butter." It's very versatile and can be used on fish, poultry or vegetables. Definitely a basic sauce you should add to your list.
Ingredients
1 cup of white wine
Juice of 1 fresh lemon (2 teaspoons reserved)
1 large shallot, minced
3/4 cup of cold, unsalted butter, cut into pieces
1 tablespoon heavy cream
Salt & white pepper to taste
Directions
In a heavy saucepan over medium-high heat, add the shallots, wine and lemon juice (all but 2 teaspoons). and reduce until there is about 1/4 cup of the liquid remaining. Reduce the heat to low and add the cream, whisking to incorporate everything.
Slowly add the butter, mixing it in one piece at a time until it's all incorporated. Whisk the mixture until it reaches a rich sauce consistency. Season with salt & white pepper and add the 2 teaspoons of lemon juice. Refrigerate until ready to serve.