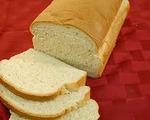 Prep: 2 hr 15 min
Cook Time: 30 min
Total: 2 hr 45 min
Serving: 25
Ingredients
2 tablespoons yeast
8 cups flour
4 cups whole wheat flour
2 tablespoons salt
2/3 cup vegetable oil
2/3 cup honey
Directions
Dissolve yeast in 1/2 cup warm water. Combine 5 cups hot water, 4 cups flour, whole wheat flour and salt in large mixer bowl, mixing until smooth. Add yeast, remaining 4 cups flour, oil and honey.
Mix for 10 minutes, adding enough flour to make a soft dough. Place on oiled surface. Shape into 4 loaves. Place in greased loaf pans. Let rise 1 to 2 inches above pan.
Heat oven to 400 degrees F; reduce heat. Bake at 350 degrees F for 30 minutes.