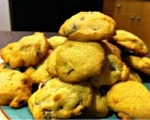 Prep: 10 min
Cook Time: 8 min
Total: 18 min
Serving: 24 cookies
It's always shocking to see just how many grams of fat lie in just one chocolate chip cookie. A regular cookie prepared with the world famous Nestle recipe has 8 grams of fat and 150 calories! Sure that may not seem like a lot, but who can just have ONE chocolate chip cookie? Enjoy your cookies without the fat with this delicious, low-fat recipe! Each of these cookies only has 4 grams of fat and less than 100 calories! Plus, they taste even better than the original.
Ingredients
3/4 cup brown sugar
1/4 cup white sugar
6 tablespoons softened butter
1/2 teaspoon vanilla
3 tablespoons water
1 1/2 cups all purpose flour
3/4 teaspoon baking soda
1/4 teaspoon salt
1/2 cup chocolate chips
1 egg white
Directions
Preheat oven to 350 degrees F. Grease a nonstick cookie sheet liberally with cooking spray.
In a medium bowl, cream the butter with the brown and white sugars with a handheld mixer until creamy. Stir in the vanilla, egg white, and water. Sift together the flour, baking soda, and salt; stir into the creamed mixture. Mix in the chocolate chips.
Drop about 1 tablespoon of dough onto the cookie sheet until you have about 12 cookies on there (be sure to place them about an inch apart).
Bake for 8 to 10 minutes, or until golden brown. Enjoy!