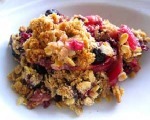 Prep: 15 min
Cook Time: 35 min
Total: 50 min
Serving: Serves 8 people
Berry, oatmeal and almond crisp combines several tasty ingredients to make one delicious dessert!
Ingredients
1-1/2 cups strawberries, hulled and cut into 1/2-inch pieces
1 cup blueberries, rinsed and drained
1 cup raspberries, rinsed and drained
1 tablespoon all-purpose flour
3 tablespoons, light brown sugar, divided
1 teaspoon grated lemon zest
1/2 cup quick-cooking oatmeal (not instant oatmeal)
2 tablespoons whole-wheat pastry flour
2 tablespoons vegetable oil
2 tablespoons sliced almonds
1/2 cup low-fat vanilla yogurt or vanilla ice cream
Directions
Preheat your oven to 350 degrees F. Combine the berries into a 9-inch pie plate.
Combine the all-purpose flour, 1 tablespoon brown sugar and lemon zest into a small bowl. Stir to blend well. Sprinkle the mixture over the berries, coating them evenly.
In a medium-sized bowl, add the oatmeal, pastry flour, remaining brown sugar, oil and almonds. Mix the ingredients together with a fork. After mixed, squeeze the ingredients together with your hands in order to form clusters. Top the berry mixture with these clusters, spread evenly around the plate.
Bake until the topping is browned and the fruit is bubbly (about 35 minutes). Serve in individual bowls topped with the yogurt or ice cream.