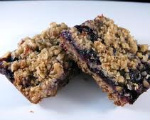 Prep: 15 min
Cook Time: 25 min
Total: 40 min
Serving: 16 bars
Pineapple blueberry bars. Blueberries can be replaced with strawberries, raspberries or blackberries.
Ingredients
Vegetable oil spray
3/4 cup crushed pineapple in juice
1 egg
1/2 cup pineapple juice
1/4 teaspoon vanilla extract
1 tablespoon vegetable oil
1 1/2 cups flour
1 teaspoon baking soda
1 teaspoon baking powder
1/2 cup fresh blueberries
Directions
Preheat the oven to 350 degrees Fahrenheit. Grease an 8 inch square pan with the vegetable oil spray.
Blend 1/2 cup of pineapple with the juice until smooth. Beat in the egg, vanilla and oil.
Add in the flour, baking soda and baking powder, beating well.
Finally, add in the blueberry and remaining pineapple.
Pour into the prepared pan. Bake for 20-25 minutes, until browned.
Cool before cutting into squares.