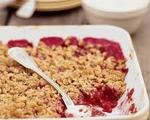 Prep: 15 min
Cook Time: 45 min
Total: 1 hr
Serving: 12 Servings
Berries make this apple crisp recipe even better and will keep you coming back for more.
Ingredients
4 large cooking apples, peeled and sliced
1 1/2 cups raspberries
1 cup blueberries
1 tablespoon cold butter, cut in small pieces
1/4 cup melted butter
2/3 cup quick oats
1/4 teaspoon baking soda
2/3 cup sifted all-purpose flour
1/2 cup brown sugar
1/2 cup granulated sugar
Pinch of salt
Directions
Preheat oven to 325 F. Grease an 11x7-inch baking dish.
In a large bowl, combine sliced apples, berries, and granulated sugar. Toss to coat. Dot with small pieces of cold butter and spread evenly in baking dish.
In a separate bowl, combine the melted butter with the brown sugar, flour, salt, baking soda, and rolled oats. Sprinkle the mixture evenly over fruit.
Bake for 45 to 55 minutes or until fruit is tender and bubbling and topping is browned.