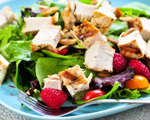 Prep: 10 min
Cook Time: 6 min
Total: 16 min
Serving: Serves 2 as a main dish or 4 as a side
Fresh and vibrant, this colorful spinach and chicken salad is a medley of wonderful flavors and colors. Serve with a glass of Vermentino or Pinot Noir wine.
Ingredients
2 skinless and boneless chicken breasts, approximately 1-1/4 pound, cut into cubes
3 tablespoons olive oil, divide
sea salt and fresh pepper
1 (10-ounce) bag spinach, rinsed, dried and stems removed
1 pint mixed berries, rinsed, hulled and halved
1 small red onion, sliced thin
2 tablespoons cider vinegar
1 tablespoons sugar
Directions
Place 1 tablespoon of the oil into a large skillet over medium heat. Once it begins to shimmer, add the chicken cubes and sauté for 6 minutes. Sprinkle the chicken with salt and pepper and then transfer to a plate.
Place the pan drippings from the skillet into a bowl, and then add the vinegar, sugar, poppy seeds, the remaining oil and a few pinches of salt and pepper. Mix the dressing vigorously to blend.
Tear the spinach and place into a serving bowl along with the mixed berries, onion, poppy seeds and chicken. Pour the prepared dressing over the salad and toss well to coat. Serve immediately.