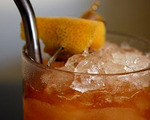 Prep: 5 min
Cook Time: –
Total: 5 min
Serving: 1 Serving
The Rum Swizzle is occasionally referred to as Bermuda's national drink. Its refreshing flavor is made with a delicious blend of dark rum, fresh juices, grenadine, falernum and bitters.
Ingredients
2 ounces dark rum
1/2 ounce fresh lemon juice
1/2 ounce pineapple juice, unsweetened
1/2 ounce fresh orange juice
1/4 ounce grenadine
1/4 ounce falernum
1/4 ounce demerara syrup
2 dashes Angostura bitters
1 cherry, 1 grapefruit peel, and shaved nutmeg to garnish
Directions
Place all of the ingredients, except for the garnishes, into a tall cocktail glass.
Fill the glass with crushed ice and then swizzle the drink by placing a long multi-pronged stirrer between your two palms and rubbing back and forth. Swizzle the drink for 20 seconds to chill and then top with additional crushed ice.
Garnish the drink and then serve immediately.