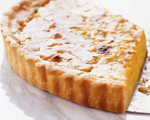 Prep: 15 min
Cook Time: 1 hr
Total: 1 hr 15 min
Serving: 8 Servings
Leeks are a versatile vegetable that resemble onions but have a lighter, more delicate taste. Enjoy the creamy texture of the sautéed leeks in this tart, which mingles beautifully with the tangy goat cheese.
Ingredients
1, 9-inch frozen piecrust, thawed
2-1/2 tablespoons butter
1-1/2 cups leeks, chopped
2 tablespoon water
1/2 teaspoon salt
1/2 cup whole milk
1/2 cup heavy whipping cream
1 large egg
1 large egg yolk
1/4 teaspoon salt
1/2 cup crumbled aged goat cheese (such as Bûcheron), rind trimmed
Directions
Preheat the oven to 375 degrees.
In a medium-sized sauté pan, heat the butter over medium heat. Add in the leeks, the water and the salt. Cook the leeks on low heat, covered, until soft for approximately 25 minutes. Sprinkle with salt and set aside.
In a medium bowl, mix together the milk, cream, egg, egg yolk, and salt with a whisk.
Place 1/4 cup of the cheese in the prepared piecrust and then spread the sautéed leeks over the cheese. Sprinkle the reaming cheese over the leeks and then pour in the milk mixture.
Place tart in oven and bake for 35 minutes. Filling should be puffy and golden.
Remove tart from oven and let sit for 5 minutes before serving.