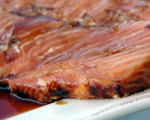 Prep: 10 min
Cook Time: 12 min
Total: 22 min
Serving: Marinade for 4 salmon fillets
A blend of rich Kriek beer, cream sherry, tangerine zest, brown sugar, garlic and ginger provide amazing flavor and an attractive glaze to barbecued salmon.
Ingredients
1 12 oz bottle kriek beer (1-1/2 cups)
1 cup soy sauce
1/3 cup cream sherry
3/4 cup packed brown sugar
Zest of 1 tangerine (or orange)
2 cloves garlic, peeled and crushed
1/4 inch piece fresh ginger, peeled and crushed
1 green onion (or 1/2 shallot), finely diced
Directions
Place all of the ingredients into a medium-sized saucepan and bring to a boil. Once boiling, stir the mixture until the sugar has completely dissolved and then cook for 10 minutes.
Remove the pan from the heat and set aside to cool before using the marinade.